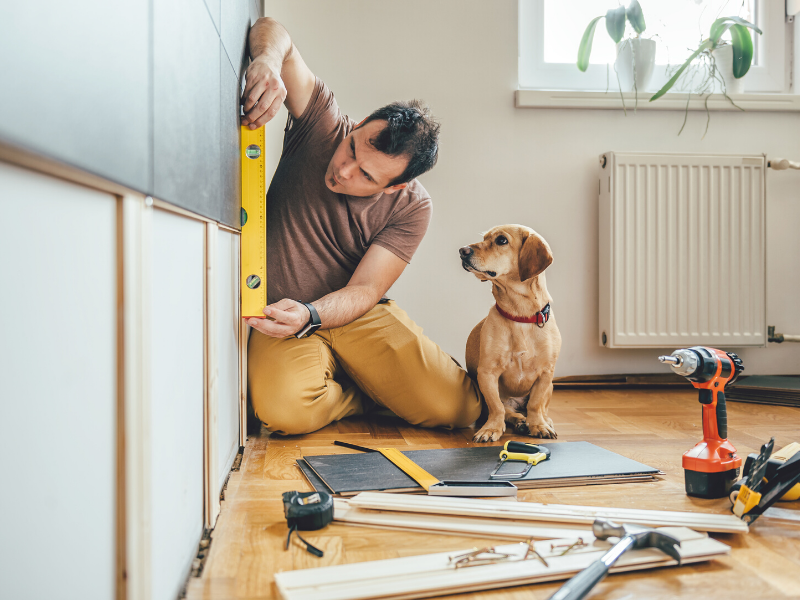 Every component of your home has a lifespan. Common questions asked by homeowners include when to replace the flooring or how long to expect their siding to last. This information can help when budgeting for improvements or deciding between repairing and replacing when the time comes. We're all familiar with the cliché: They just don't build things like they used to. And while this may be true when it comes to brick siding or slate roofing, lifespans of other household components have increased in recent years. Here are the life expectancies of the most common household items (courtesy of NAHB):
Appliances: Among major appliances, gas ranges have a longer life expectancy than things like dishwashers and microwaves.
| | |
| --- | --- |
| Appliance | Life Expectancy |
|  Oil-burning Furnace |  20 years |
|  Heat Pump |  16 years |
|  Gas Range |  15 years |
|  Electric range / Refrigerator / Dryer |  13 years |
|  Electric / Gas Water Heater |  10 years |
|  Garbage disposal |  10 years |
|  Dishwasher / Microwave / Mini Fridge |   9 years |
Kitchen & Bath: When choosing your countertops, factor in the life expectancies of different materials.
| | |
| --- | --- |
| Kitchen / Bath Item | Life Expectancy |
|  Wood / Tile / Natural Stone Countertops |  Lifetime |
|  Toilets (parts will require maintenance) |  50+ years |
|  Stainless steel sink |  30+ years |
|  Bathroom faucet |  20+ years |
|  Cultured marble countertops |  20 years |
|  Kitchen faucet |  15 years |
Flooring: If you're looking for longevity, wood floors are the way to go. Certain rooms in your home will be better suited for carpeting, but you can expect they'll need replacing within a decade.
| | |
| --- | --- |
| Flooring Material | Life Expectancy |
|  Wood / Bamboo |  Lifetime |
|  Brick Pavers / Granite / Marble / Slate |  100+ years |
|  Linoleum |  25 years |
|  Carpet |  8 – 10 years |
Siding & Roofing: When choosing roofing and siding for your home, climate and maintenance level factor into the life expectancy of the material. However, brick siding and slate roofing are known to be dependable for decades.
| | |
| --- | --- |
| Siding / Roofing Material  | Life Expectancy |
|  Brick Siding |  100+ years |
|  Aluminum Siding |  80 years |
|  Slate / Tile Roofing |  50+ years |
|  Wood Shingles |  30 years |
|  Wood Siding |  10 – 100 years (depending on climate) |
Are extended warranties warranted?
Extended warranties, also known as service contracts or service agreements, are sold for all types of household items from appliances to electronics. They cover service calls and repairs for a specified time beyond the manufacturer's standard warranty.
You will have to consider whether the cost is worth it to you. For some, it brings a much-needed peace of mind when making such a large purchase. Also consider if the cost outweighs the value of the item. In some cases, it may be less expensive to replace a broken appliance than to pay for insurance or a warranty.
Posted on April 13, 2020 at 12:00 pm
Meaghan Nicholl
Posted in

Home Improvement, Home Ownership, Investment, Living
Tagged

countertops, Dishwasher, dryer, electric range, electric water heater, Extended Warranties, faucet, Flooring, Furnace, garbage disposal, gas range oven, gas water heater, life expectancy, Lifespan, marble countertops, Microwave, Refrigerator, siding, stainless steel sinks, toilets
Whether you're a skier who loves the mountain slopes of Colorado, a lover of the beaches of Southern California, or a potential retiree seeking to escape the snow-laden Northeast for the wide-open, sunny lands of Arizona, there are homes available to meet a wide range of budgets. The biggest decision a potential second homeowner must make is whether they are going to solely own their vacation home or turn it into a vacation rental. Here are the advantages and disadvantages to both options:
Investing in vacation rentals
Pros:

A good vacation rental property generally provides a healthy rental revenue which could potentially cover mortgage payments while also generating healthy additional profit.
Using an online short-term rental service like Airbnb makes it convenient to manage your rental property. Their website interface makes pricing, marketing, and communication with potential guests quite straightforward and easy. Airbnb will also oversee the billing process for you.
You may qualify for federal tax breaks and deductions related to your investment property. Everything from professional fees or commissions – including property management services- to cleaning and maintenance are potential tax write-offs.

Cons:

Vacation rentals can be costly to manage, both in terms of time and money. These properties may require seasonal upkeep and special maintenance considerations. You may even incur costs to maintain or monitor the property even when it's not actively being utilized.
Vacation rental properties are particularly sensitive to seasonal fluctuations and economic downturns, which could leave you financially exposed if you suffer a lack of booking revenue.
Many states and cities are cracking down on short-term rental services. In California, for example, the fight has been primarily local, reaching a fever pitch in the San Francisco Bay Area. Increasingly state and local municipalities are seeking to reign in short-term vacation rentals, which could put a damper on potential revenue from these properties.
You may experience higher renovation and repair costs on a short-term rental. Most travelers expect the latest appliances and furnishings, so you will have to update every few years. Unfortunately, short-term renters are less likely to report any necessary repairs and guests are far less likely to treat the property with respect since there's no sense of ownership or obligation.
Owning a vacation home
Pros:

Long-term profits: While assets fluctuate in value in the short term, vacation properties are more likely to retain their value and appreciate because they are located in popular areas with a geographically limited supply.
Familiarity: Returning to the same place time and after time can be comforting as you become familiar and comfortable with the location. It allows you the freedom to be yourself and the opportunity to expand long-term friendships with residents.
Convenience: The ability to conveniently store items that are used exclusively at the second home simplifies travel and packing.
Retirement head starts: Though we may love where we work and live, every place has its drawbacks. A common goal of retirement is to have a place to retreat for the times of the year we dislike the most at our main residence. Locating and buying a second home prior to retirement enables you to experience the benefits of a refuge before actual retirement, a time to correct and amend your plans if the reality is different than the dream.

Cons:

Initial purchase costs: Most people have higher expectations for a property that they intend to own, rather than to rent. These expectations can translate into high prices.
Home maintenance: As the homeowner, you are responsible for all home maintenance work.
Travel time: A second home will be located hours from your primary residence, requiring either long auto trips or airline flights.
Inflexibility: If you are paying a significant amount of money each month for a second home, you may feel that you need to constantly visit the property to justify your investment.
Posted on February 17, 2020 at 12:00 pm
Meaghan Nicholl
Posted in

For Buyers, Home Ownership, Investment
Tagged

cons, flexibility, income producing investment, long term, maintenance, money, owning, owning a vacation home, pros, Pros and Cons, retirement, short term rentals, time, travel time, Vacation Home

Investing in a home is a great way to build passive income but earning from your investment will take a little groundwork to become a well-oiled machine. This is your beginner's guide to owning an investment property so you can set up that foundation properly to avoid future headaches.
Make sure it's livable
It's important to start with your home inspection before you start making plans. Use the inspection report to prioritize the maintenance issues.
Before a tenant moves in, make sure the home is livable. Handle the important items that affect the livability of the property, either now or in the near future. If the inspector noticed a leak in the roof or holes that could lead to infestation, take care of those first. Other maintenance issues to prioritize are the fuel and the hot water source.
If your city has inspection and registration requirements, be sure to cross check those inspection checklists with your current property. If the property wouldn't pass now, make sure it will pass by the time the city sees it.
Upgrade the space
Once your property is in livable condition, it's time to upgrade. If you have any left-over budget after the necessities are handled, consider adding a bedroom or a bathroom where you can find the space. These rooms heavily impact the rental price, and the more you have the higher the price. If there's no space for another bed or bath, think about finishing the basement or upgrading some of the appliances to make the property more attractive to potential tenants.
Use similar properties in your neighborhood as your inspiration. These units are your competition, think about what you can add, or even take away, that would help you compete. Ask yourself what about your home is unique and in what ways does that affect your rentability? If every unit in your area has hardwoods, how can you make your carpeted home appealing? Maybe new carpet? Or is switching to hardwoods, or vinyl laminate that looks like wood, worth it?
Market it to future tenants
You need two things in your listing: 1) Great Photos 2) An Amazing Description
After you've perfected the property, it's time to tell potential tenants that it's available. Creating the listing is essential in drawing eyes on the unit so you can show it to as many people as possible.
Renters looking to move are quick to make their first impression of a property with thumbnail photos on a map. So, take lots of great, bright, photos of the entire place to showcase the amenities and show potential tenants what it looks like, then choose the best photo to be the first in the lineup. Remember to get the lighting is just right to show every corner of the listing. Dark photos scare tenants away, making them think the unit is dingy and dirty. Light and bright photos show a clean home that's move-in ready. They can imagine themselves living there a lot easier than in dark and cramped looking units.
Next, they'll read the description. This is again where other listings in your area can help you.
Read other listings to structure your description and to draw inspiration on what tenants might think is important. Find the selling points and emphasize those above the unique features, especially if those unique features are obvious in the photos.
Posted on November 27, 2019 at 12:00 pm
Meaghan Nicholl
Posted in

For Buyers, For Sellers, Investment, Rental
Tagged

Bathrooms, bedrooms, Condition, condition of the home, description, Flooring, great photos, Hardwood Floors, inspection report, Investment, Investment Property, laminate, livable, maintenance, neighborhood inspiration, New Carpet, photos, Rent, rental price, rental prices, renters, updates